Mellcon a renowned name in the field of Compressed Air Dryers & Refrigeration Chillers with hundreds of installations all over India is pleased to announce the launch of Milk Chillers / Bulk Milk Coolers for the Dairy Industry / Cooperative Milk Collection Centres.
Mellcon Engineers has developed Milk Chillers for village size Co-operative Collection Centers. These chillers are available in 150, 300, 600 & 1000 Ltrs. capacities. This is an excellent equipment for the improvement of milk quality by chilling it at collection centre itself before transporting to the Dairies. The milk can be chilled to 5 Deg. C. thus improving the quality of milk tremendously. This is achieved within an hour from 35 Deg.C. to 5 Deg.C. in milk received at the society level. These units operate on single phase electric connection consuming around 7, 10, and 14 Amps respectively. These chillers are based on Ice Bank Technology where the Ice is built up when there is no supply of milk in the Ice Bank Tank & is melted as & when the milk receipts is started to and meet the instant demand of Milk Chilling in morning and evening. These units can also operate on single phase Diesel Genset. If operated optimally the average cost of chilling works out to be nearly 10 paise per liter of milk.
Our supplies have proved to be very useful & maintenance free at society level. However, we have an excellent after sales-service to attend the machine during warranty as well as after warranty. The Equipment is totally indigenous and all components are from reputed suppliers and are easily available for any after sales -service need.
By installing these milk chiller the transportation cost of the milk is halved as the milk can be transported once in a day in place of twice in a day as is the case presently prevailing in all small Co-operative societies.S
Salient Features :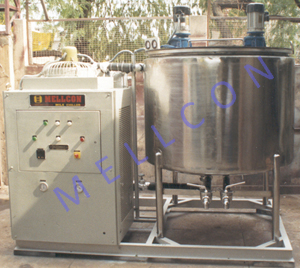 Hermetic/Semi hermetic sealed/open compressors with internal over load protection.
Stainless steel storage tank with external insulation to prevent ingress & condensation.
Digital temperature indicator controller for precise temperature controlling.
Audio visual indication for controls and safeties.
Trolley mounting-optional.
Other range of products :
Water / Brine / Oil Chillers
Air / Gas Dryers (Refrigerated and Desiccant Type)
Ice Machine
Cold Room Equipments
Liquid CO2 Storage Tanks
Air Receiver and Water Cooled After Coolers
Dew Point Testing Kits and Auto Drains
Skid mounted compressed Air System (upto 100 CFM)